Slip & Fall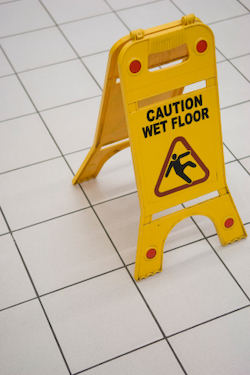 Kentucky Slip & Falls
In Kentucky, slip & fall and trip & fall accidents come under premises liability laws. These laws relate to the responsibility of landowners to carefully protect the safety of people who come upon their property, which includes stores and businesses.
If you are a visitor to a person's home or apartment, property, or business, and are injured as a result of a dangerous condition or hazard, you are entitled to be compensated for your injuries. Compensation under the law includes payment of medical bills, lost wages, and pain & suffering. Slip & fall injuries relate to substances or conditions of properties, which result in causing a person or customer to fall and hurt themselves. If you have been injured on someone else's property, you should consult with a lawyer about the facts of what happened to you in order to know your legal rights.
Our firm represents people injured in Kentucky on other people's property. We also represent the Estates of families who have lost a loved one in Kentucky due to a dangerous property condition. We will work hard to insure that the insurance companies treat you fairly and obtain payment of your medical bills, lost wages, and compensation for your injuries.
If you or a loved one has been injured in a Kentucky property related accident, contact us to discuss your legal options. We will take the time to review your case with you and inform you of what your legal rights are.
You can contact us by email (fill out the Contact Us section at the top right of this page or email Kentucky slip & fall attorney Brent T. Ackerson at brent@kyfirm.com or click here to contact us online) or call us directly at (502) 882-5176. We will quickly return your calls and respond to your emails, even on nights and weekends.