Employment Sexual Harassment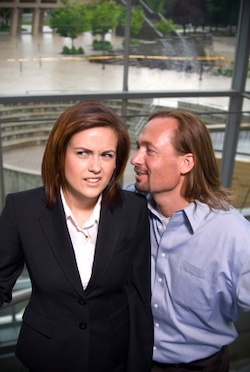 Kentucky Employment Sexual Harassment
Sexual harassment in the workplace destroys employee moral, self esteem, and is emotionally devastating. It is both a physical and mental power play by the offender, who is sexually gratified by the actual physical act or even the mental/emotional dominance. To sexually harass a person is an attack upon a person's dignity.
In order for workplace sexual harassment to be legally prosecuted, it must be frequent in occurrence or severe in nature when it comes to an isolated event, such as a requirement of a sexual favor in return for action or inaction by your boss, that it shocks the conscious. Sexual harassment must be "severe and so pervasive" so that it "unreasonably interferes with a person's ability to do his/her job." Isolated acts or isolated comments are NOT sufficient under the law to rise to the level to be actionable in court. Sexual harassment can consist of supervisor to employee issues or co-worker to co-worker issues. Most commonly thought of claims involve a supervisor requiring a subordinate to accept sexual advances to protect their job or advance in their employment. The other type of sexual harassment is when it comes from a co-worker who does not have authority over you, as to require you to accept sexual advances to keep your job, but rather subjects you to regular sexually harassing conduct.
Employment related lawsuits are very technical legal processes, and an employee who feels that they have been wronged should consult with an attorney as soon as possible to protect their legal rights.
If you or a loved one has suffered from sexual harassment in the Kentucky workplace, contact us to discuss your legal options. We will take the time to review your case with you and inform you of what your legal rights are.
At the Ackerson Law Offices, we fight to punish businesses who allow sexual harassment to occur. We fight to recovery the victim's lost wages and compensation for the injury to their emotional well being. We additionally seek to prevent any future employees from suffering the same humiliation and discriminatory conduct that our clients have had to endure.
You can
contact us by email
(fill out the
Contact Us section
at the top right of this page or email Kentucky employment
attorney Brent T. Ackerson
at
brent@kyfirm.com
or
click here to contact us online
) or call us directly at (502) 882-5176. We will quickly return your calls and respond to your emails, even on nights and weekends.