Kentucky Attorney Assisting Accident Victims and Employees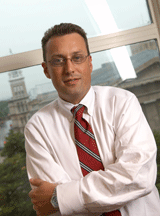 Louisville personal injury lawyer Brent T. Ackerson & the Ackerson Law Offices represent people and families who have been injured by the negligence or intentional acts of others. Our clients include people who have been injured or families who have lost loved ones as a result of motor vehicle accidents, dangerous premises, workplace accidents, and dangerous and defective products. We also represent employees who have blown the whistle on misconduct by their employers, or who have been victims of retaliation or harassment in the workplace. The Ackerson Law Offices are based in Louisville, Kentucky, and we serve clients throughout the Commonwealth of Kentucky, from Covington to Middlesboro and from Paducah to Ashland. At the Ackerson Law Offices, we care about our clients, we know that our clients are going through some of the toughest times of their lives, and we provide our clients with a level of service that we would want for our own families.
Personal Injury
In Kentucky, you have only one year after the date of an accident to file a personal injury lawsuit in most cases. This makes it essential to promptly consult the personal injury attorney at our Louisville firm. Many personal injury lawsuits are pursued under a theory of negligence. You will need to establish negligence by a preponderance of the evidence. In other words, you will need to show that it is more likely than not that the defendant needed to act with a certain level of care, but they fell short of the appropriate standard, and this caused the accident and your injuries.
Car Accidents
Car accidents can cause catastrophic injuries. Kentucky is a no-fault state, which means that if you were injured in a car accident, you will need to first turn to your personal injury protection (PIP) benefits, whether you were in a different car or riding in the same car as the at-fault driver. If the accident is serious, then it is important to have an attorney reserve your PIP benefits until the injured person is fully treated, so to stretch the value of those benefits applied to medical bills or lost wages. Even accidents that are not so severe to exceed the PIP benefits can still result in a legal recovery for the injured person. In many cases, a car accident lawsuit is brought against a driver under a theory of negligence. Our firm works hard to make sure that insurers treat our clients fairly so that they can recover medical bills, lost income, and other damages. Often, an insurer will claim that an accident victim was partially or fully to blame in an effort to avoid liability or to get the accident victim's damages reduced under the doctrine of comparative negligence. Our Louisville personal injury attorney can investigate the accident from your perspective and fight efforts by an insurer to lowball your settlement.
Wrongful Death
The most severe accidents may result in untimely deaths. When somebody dies because of the negligence, recklessness, or intentional misconduct of another party in Kentucky, it may be possible to recover damages through a wrongful death lawsuit. For example, if your spouse dies after being hit by a drunk driver, this may result in a wrongful death lawsuit. Similarly, if your child dies because of an accident involving a defective product, this may be the subject of a wrongful death lawsuit. The personal representative for the decedent's estate may file the wrongful death claim in civil court. The civil case is wholly distinct from any criminal charges that may be brought. Liability in a wrongful death lawsuit is expressed in monetary damages, and the burden of proof is lower in a civil case than it is in a criminal case. Louisville personal injury lawyer Brent Ackerson advocates compassionately for grieving families.
Whistleblower Claims
It is unlawful for a government agency to retaliate against an employee who reports, in good faith, a suspected legal violation to the authorities. Employees who make these reports are known as whistleblowers. Both federal and state laws protect certain whistleblowers. The Kentucky Whistleblower Act only protects public employees at the state level who blow the whistle or report good faith suspicions of fraud, abuse of authority, waste of public resources, and/or matters that jeopardize safety. However, federal laws may protect you instead. For example, the federal False Claims Act allows whistleblowers who believe that their company has defrauded the government to file a qui tam action that protects them from employer retaliation. At the Ackerson Law Offices, we fight to recover the lost wages and other damages sustained by a whistleblower who has been subjected to retaliation.
Employment Retaliation
Employment is at will in Kentucky, which means that you can be fired at any time and for any reason or for no specific reason. However, there are exceptions if the termination goes against public policy or violates a statute. An employer cannot terminate you for a reason that cuts against a fundamental, defined public policy. It also cannot terminate you because you engaged in a protected activity, such as filing a discrimination lawsuit or even filing an internal complaint about sexual harassment or discrimination. The Kentucky Civil Rights Act prohibits discrimination on the basis of color, race, national origin, religion, sex, age if you are 40 or older, a disability, or smoking status as long as you obey a workplace policy about smoking. Retaliation occurs if an employer takes an action that is intended to punish an employee for reporting wrongful conduct to an authority, either within the company or outside it. People in the health care industry are also protected and cannot be retaliated against for reporting matters that involve potential patient safety concerns. Our firm fights to punish businesses that unjustly retaliate against employees.
Employment Sexual Harassment
Both Title VII of the Civil Rights Act of 1964 and the Kentucky Civil Rights Act prohibit workplace sexual harassment. The Kentucky Civil Rights Act prohibits discrimination in employment based on sex, with sexual harassment categorized as a type of sex discrimination. It applies to employers that have eight or more employees. Sexual harassment on the job is emotionally devastating and can be financially harmful. Generally, sexual harassment is prohibited either because it creates a hostile work environment or because it is quid pro quo harassment. The former occurs when harassing conduct is severe or pervasive, such that the workplace is made offensive or hostile. The latter occurs when an authority figure in the workplace, such as a supervisor or a manager, conditions employment on submission to sexual advances or provision of sexual favors.
Retain a Knowledgeable Employment or Personal Injury Attorney
After an accident, you should speak to a personal injury lawyer in the Louisville area without delay to find out about your next steps. If you have been subjected to mistreatment on the job, you also should take the time to explore your legal options. Brent Ackerson represents accident victims and employees throughout the state of Kentucky. For a FREE consult to discuss your case, call our office at (502) 882-5176 or contact us online. We will quickly return your calls and respond to your emails, even on nights and weekends.