Bus Accidents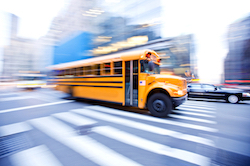 Kentucky Bus Accidents
Kentucky bus accidents involve school buses, charter transportation buses, and public transit buses. These accidents can be the fault of the bus driver or another vehicle. These types of accidents can result in serious injury and even death. Our firm represents people injured in Kentucky bus accidents, whether they were passengers on the bus or in another vehicle involved in an accident with a bus. We also represent the Estates of families who have lost a loved one in a Kentucky bus related accident. We will work hard to insure that the insurance companies treat you fairly and obtain payment of your medical bills, lost wages, and compensation for your injuries.
If you or a loved one has been injured in a Kentucky bus related accident, contact us to discuss your legal options. We will take the time to review your case with you and inform you of what your legal rights are.
You can contact us by email (fill out the Contact Us section at the top right of this page or email Kentucky bus accident attorney Brent T. Ackerson at brent@kyfirm.com or click here to contact us online) or call us directly at (502) 882-5176. We will quickly return your calls and respond to your emails, even on nights and weekends.