Dog Bites & Animal Attacks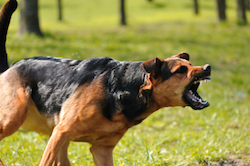 Kentucky Dog Bites & Animal Attacks
In Kentucky, owners are responsible for injuries caused when their dog bites or attacks a person. Kentucky Revised Statute ("KRS") 258.235(4), states: "Any owner whose dog is found to have caused damage to a person, livestock or other property shall be responsible for that damage." This means that Kentucky is a "strict liability" state when it comes to dog bites and dog attacks.
KRS 259.210 provides that livestock are not permitted to "roam at-large" and the owner is liable for any damages that may result. Owners of livestock, horses and cattle, are responsible to take reasonable and prudent measures to assure that these animals do not roam freely and cause accidents or injury to others. That responsibility includes fencing the animals in and taking other precautions so the livestock do not cause problems for others in the surrounding area.
When dog and animal owners ignore or neglect their responsibilities, tragedies can result in serious and fatal attacks and accidents. Our firm represents people injured in Kentucky by dog bites and animal attacks. We also represent the Estates of families who have lost a loved one in a Kentucky dog bite or animal attack related matter. We will work hard to insure that the insurance companies treat you fairly and obtain payment of your medical bills, lost wages, and compensation for your injuries.
If you or a loved one has been injured in a Kentucky dog bite or animal attack, contact us to discuss your legal options. We will take the time to review your case with you and inform you of what your legal rights are.
You can contact us by email (fill out the Contact Us section at the top right of this page or email Kentucky dog bite or animal attack attorney Brent T. Ackerson at brent@kyfirm.com or click here to contact us online) or call us directly at (502) 882-5176. We will quickly return your calls and respond to your emails, even on nights and weekends.