Louisville Personal Injury Lawyer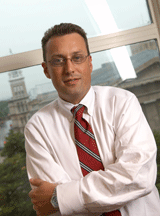 In addition to the practice of law, Brent T. Ackerson is active in political issues throughout the Commonwealth and is a Metro Louisville Councilman.
Kentucky personal injury attorney Brent T. Ackerson & the Ackerson Law Offices represent people and families who have been injured by the negligence or intentional acts of others, including families who have lost a loved one in a wrongful death action. Louisville personal injury lawyer Brent T. Ackerson's and the Ackerson law Offices' clients include those who have been injured or killed as a result of motor vehicle accidents, dangerous premises, workplace events, and dangerous & defective products. The Ackerson Law Offices are based in Louisville, Kentucky, and serve clients throughout the Commonwealth of Kentucky, from Covington to Middlesboro, Paducah to Ashland. At the Ackerson Law Offices, we care about our clients, know that our clients are going through some of the toughest times of their lives, and provide our clients with a level of service that we would want for our own families.
For a FREE consult to discuss your case, learn your legal rights, and discuss your options, Call our office at (502) 882-5176 or contact us online. We will quickly return your calls and respond to your emails, even on nights and weekends.